CHOOKASIAN ARMENIAN CONCERT ENSEMBLE
Armenia's National Gold Medal Award Recipients

The only CD's available, worldwide, presenting traditional classical, folkloric, and troubadour songs and dances of Eastern AND Western Armenia. Performed on native acoustic instruments of Armenia.

Selections by: Sayat Nova, Gomidas Vartabed, Tatoul Altounian, Arno Babajanian, Khachatur Avedissian. Music of Koussans Ashod, Havasi, Shahin, Sheyram. Church hymns (Sharagans) by Ekmalian,
and many other selections.
Armenian Folk dances: Haleh/Kochari, Laz Barr, Tamara, Shalakho, Tamzara Barr, Sepastia Barr, Bijo Barr, Pampuri Barr, Trabizon Barr;
and much more...
"THANK YOU FOR SUPPORTING TRADITIONAL ARMENIAN
MUSIC AND CULTURE!"
---
"Visions of Armenia"
Recorded live at California State University, Fullerton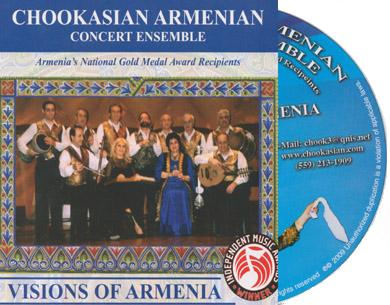 2009 ARMENIAN MUSIC AWARDS GRAMMY WINNER
BEST TRADITIONAL ARMENIAN FOLK MUSIC CD ALBUM
TRACK LISTING:

1. Uste Gookas Gharib Bulbul
2. Las Barr (Dance)
3. Anush Davigh (Lap Harp-Kanun Solo)
4. Mourad's Sepastia Haleh (Dance - Clarinet,Saz (Lute), Ensemble)
5. Lyrikan - Ambeetz Gorav Loosingan & Sareri Akhpyur
6. Oud Taxim (Lute - Oud Solo)
7.Loosing Ambeen (Zurna & Ensemble)
8. Odar Amayi (Lute - Tarr Solo)
9. Oorakh Barr (Folk Violin - Kemenche Solo)
10. Bardezoom Varter Patsvadz
11. Fisherman's Dance (Lute - Oud & Ensemble)
12. Akh Eem Yar & Hye Daghakner
13. Andari Yerk (Folk Piccolo - Shvi Solo)
14. Asg Parabantz
---
"Passage To Armenia"
"Janibar Tebee Hyastan"
Recorded live at California State University, Northridge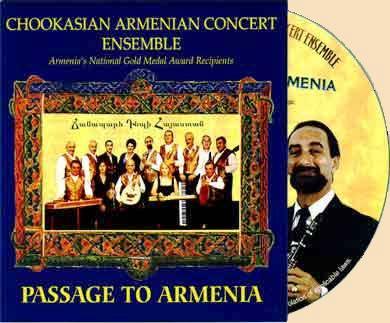 2006 INDEPENDENT MUSIC AWARDS
1ST PLACE, ALBUM WINNER FOR:
BEST TRADITIONAL WORLD MUSIC CD ALBUM
TRACK LISTING:

1. Donagan Barr
2. Dzaghgadz Baleni
3. Duduk Solo, Chis Assoum
4. Eench, Eench Assem
5. Kani Voor Jan Eem
6. Msho Akhchig
7.Santur Solos:Toon En ..Kulkhen, Shalakho
8. Almastuh Shoghoom Eh
9. Oud Fantasy
10. Bulbooli Heet
11. Ghapama
12. Tarr Solo:
. Tsayne Dur Ov Tsovag
13. Barrites Barr, Pampuri Barr
---
"Echoes From The Past" "Artsagankner"
Recorded live at California State University, Fresno

TRACK LISTING:

1. Akh Eem Anoush Yar
2. Vosbikian Barr
3. Groongner
4. Odar Amayi -
Kemenche Solo
5. Goghpa Yelan Seleruh
6. Mayr Araxi Aperov -
. Duduk Solo
7. Kemenche
8. Eem Chinari Yaruh
9. Improvization - Oud Solo
10. Harse Em Gnoum
11. Trabizon Barr - Kanun Solo
12. Nubar Nubar
13. Yaro Jan
14. Improvization - Santur Solo
15. Yar Arantz Kez - Acapella
16. Armenian Wedding Procession
---
"Avantagan"
"Traditional Music"
Recorded live at the San Francisco - World Music Festival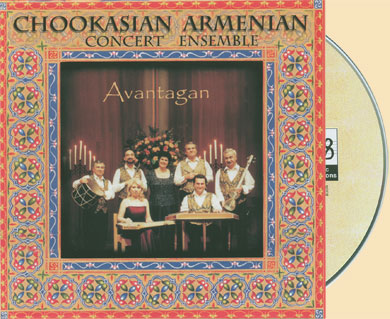 TRACK LISTING:

1. Asg Parabantz
2. Duduk Solo
3. Sepastia Haleh/Kochari
4. Oud Solo
5. Eetchav Marmand Ereegoon
6. Laz Barr
7. Bingeol
8. Santur Solo
9. Yes Koh Gheemeetum
Cheem Keydee
10. Siroon Manoushag
11. Tamara
12. Tarr Solo
13. Gabooyd Trchoon
14. Sepastia Barr & Bijo Barr
Each musician of the Chookasian Armenian Concert Ensemble is dedicated to the goal of preserving traditional Armenian music
through their masterful presentations of Armenian folk songs, presented in its unchanged form, on native instruments.

Compact Discs: $15.00 plus $4.00 Shipping.
When ordering, please make
ALL CHECKS & MONEY ORDERS PAYABLE
to:
John Chookasian
2511 W. Browning Ave.
Fresno, CA. 93711-2508